Shell - USA
Press Release
October, 2004

New Products Announcement
Shell-USA, Divn. Of SAI, provides complete turnkey solutions for radioactivity determination (Beta, Gamma, Positron) with GLP compliant control.
Shell-usa, as exclusive distributor, is pleased to announce the introduction of their new line of Wakaida Engineering products for Radioactive Waste Incineration, Robotic Automated Scintillation Vial Washing System and the IR Animal Drying System.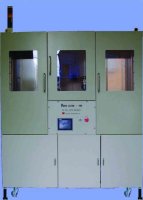 The Wakaida ROBO CLEAN-400 is a fully automated robotic scintillation vial cleaning system, which performs the following functions:

Remove cap of the vial, which contains radioactive waste solution after scintillation measurement.

Drain radioactive waste solution.

Remove filter for cleaning.

Sort and collect radioactive waste solution as per their properties.

Fully automated operation results in operator safety, and cost savings in radioactive waste
disposal and labor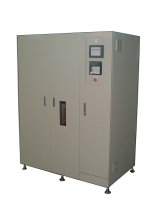 The Wakaida BURNCLEAN Series I, II & III incinerators are small self-contained systems for in-situ destruction of scintillating solutions, which are low-level radioactive organic liquid waste. Three models are available depending on the volume to be processed (1, 2 or 3 l/hr).
Fundamental mechanism of the BURNCLEAN consists of a rotating pilot burner, air, and
main burner. It can burn solutions at high temperatures, which minimizes the residue, and
enables easy maintenance. Material of the hearth is ceramic fiber, which is durable and
impervious to acid.

Unlike vaporizing waste burners, BURNCLEAN does not require air volume control,
eliminating the need for a valve in the system. The BURNCLEAN is capable of handling and
disposing all solvents, from aqueous to 100% organic solution.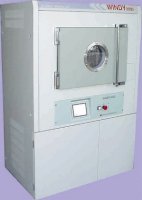 The Wakaida WINDY 2000 Far-IR Animal Drying System uses thermal reaction with Far-IR to permeate animal cellular tissue contaminated by radioactive isotope (RI) to dehydrate.
Conventional microwave dryer does not radiate uniformly and traces of metal in the animal cause burn and strong odor. Freeze vacuum dryer takes a long time to process and it is impossible to sterilize. WINDY 2000 does not have these limitations.


Other products include Shell Jr. Series™ - Beta Radio-HPLC Detector with HPLC, Gamma / Positron Radio-HPLC Detector, Radioactivity scanner, imager for all isotopes, including 3H and GLP software, Radio-GC Detector with GC, Single sample Gamma counter, Hand & Foot Monitor, Radiation Detectors, Area Monitors, Shielding Boxes, Portal Monitors, Floor Monitors etc.

For more information, please contact:
Shell-usa, Inc.
7015 Kenny Lane
Fredericksburg, VA 22407
Tel: 540-548-8010
Fax: 540-786-3596
Email: sales@shell-usa.com
Website: www.raytest.de, www.shell-usa.com