Radioactive Tool Stolen From Construction Site
Paraphrased by:
Steve Waldrop
March 30, 2002
Winston-Salem, NC. -- Careless construction workers apparently are to blame for the theft of a pickup truck with equipment containing radioactive material chained to its bed, a state official said Friday.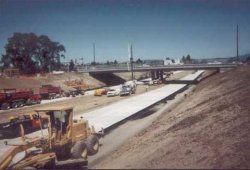 As of Friday afternoon, law enforcement had yet to find the truck or the moisture density gauge, which was last seen Thursday afternoon inside a case chained to the pickup owned Thompson-Arthur Division of APAC-Carolina Inc., a Greensboro paving company.

A $1,000 reward was offerd by the company for information that leads to the gauge's recovery, according to Lee Cox, a health physicist with the state Division of Radiation Protection.

The gauge contains a minuscule amount-- 8 millicuries-- of Cesium 137, Cox said. The state Department of Health and Natural Resources sent out an alert late Thursday, telling anyone who finds the truck or gauge to stay at least 10 feet away and contact police.

If handled improperly or broken, Cox said that the radioactive material, which is sealed by stainless steel in the gauge is a potential health and safety risk. He also said that although the gauges cost around $10,000 apiece, the theft of the radioactive material was likely unintentional. He said the amount of material stolen "is nothing a terrorist would go after."

The theft occurred when paving company employees parked the truck at a work site at the intersection of Highway 311 and High Point Road in Forsyth County, according to state officials.

The workers were setting out traffic cones. Cox said he was told the keys were left inside the truck.

"Apparently, the guys got to the construction site and were dealing with traffic issues and they turned around and the truck was gone," Cox said.