UPDATE!!
5th Worker Dies from Japanese Nuclear Accident

August 30, 2004

The death count now stands at five, after another worker died this week from injuries he suffered earlier this month in Japan's worse ever nuclear-plant accident.

30-year-old Masaru Kamelwa was severely burned in the August 9th accident, which occurred when a corroded cooling pipe carrying boiling water and superheated steam burst. No radiation was released.

Officials said that one of the injured workers has been released from the hospital, while three others are still being treated for serious injuries.

The Mihama plant's operator, Kansai Electric Power Co., has admitted that a ruptured part of the pipe had not been inspected since 1996. It is being investigated on suspicion of negligence leading to death.
Four Killed in Japanese Nuclear Accident
August 10, 2004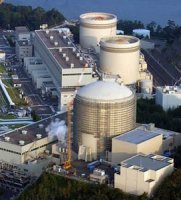 TOKYO - A nonradioactive steam leak killed four people and injured seven others in the worst-ever accident at a Japanese nuclear power plant, officials said.
The leak was caused by a lack of cooling water in the reactor's turbine, said Kimihito Kawabata, a spokesman for plant operator Kansai Electric Power. The steam was believed to be about 518 degrees Fahrenheit.
Four workers died after suffering severe burns, seven others were injured, two of them critically, said police officials. Three of the others were seriously injured, and the remaining two suffered minor injuries.
No radiation was involved and there was no need to evacuate the area around the plant in Mihama, a small city about 200 miles west of Tokyo, officials said.

After the accident, Kansai Electric officials found a hole on the condenser pipe, public broadcaster NHK reported. It did not elaborate on the size of the hole, believed to be the source of the leak.

The No. 3 nuclear reactor in Mihama, which started operations in 1976, automatically shut down when steam began spewing from the leak, said Takahiro Seno, another Kansai Electric Power official.

The Mihama plant's two other reactors were operating normally, officials said.
"There was no leak of radioactivity that could harm the environment," said Nobutake Masaki, a Mihama city official. He added that the steam, which was not radioactive, leaked only inside the building.

The workers were all employees of Kiuchi Keisoku Co., an Osaka-based subcontractor of Kansai Electric. They were all inside the turbine building to prepare for regular inspections of the plant.

Monday's accident in Mihama, which has a population of about 11,500, was the second fatal accident at a Japanese nuclear plant.

The first was in 1999, when a radiation leak at a fuel-reprocessing plant in Tokaimura, northeast of Tokyo, killed two workers and caused the evacuation of thousands of local residents. That accident was caused by two workers who tried to save time by mixing excessive amounts of uranium in buckets instead of using special mechanized tanks.