Irradiation Sets Mail on Fire
IBA Facility, BRIDGEPORT, N.J. --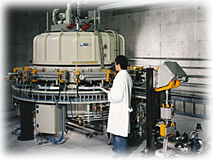 Approximately 90 pounds of mail was destroyed in two small fires at the radiation facility of IBA in Bridgeport, NJ December 6th and 7th. This mail was part of the batches of mail being treated with radiation to eliminate possible anthrax contamination. It is believed by the engineers involved that something in the mail caused the fires. Hundreds of large envelopes and magazines were destroyed.
There were no injuries or damage to the plant.
Since mid-November, the plant has also been irradiating mail quarantined from the Hamilton Post Office, which closed in October after the office was found to have handled at least four contaminated letters.
All quarantined letters were sanitized last month, and the plant is now handling magazines and large envelopes.
What materials might have overheated to cause the fires is being withheld by officials, saying they did not want to give information to potential saboteurs.
The radiation unit being used accelerates electrons to several Million Electron Volts and at approximately 100 kWatts. This is enough energy to cause certain materials to become overheated and if the conditions are just right, there could be a fire. The momentary stoppage of the conveyor could cause such a fire.