Terror From the Tabloids
By: Steve Fowler
While our magazine is dedicated to the radiation industry, we feel we have no choice but to voice our theory on the Anthrax attack in Florida. If our theory is true, we could not live with the consequences if we did not make every effort to get it known and make the authorities aware. If we can think of this, they already have.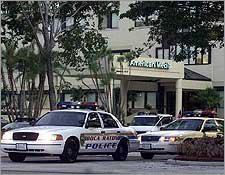 The recent anthrax scares in the AMI building in Florida causes us to review the security of our everyday lives. This attempt to contaminate the offices of the publishers of the tabloids like the Globe and the National Enquirer was in our opinion a move of genius but misguided in its knowledge of the actual working of the tabloids. These tabloids are not printed in Florida. They are printed at very few locations around the country (one in our town of Spartanburg) . These terrorists thought they would spread the spores of anthrax over millions of papers at every check our station in our country. They were wrong but now they know how the tabloids are printed. These tabloids may present the greatest threat to the USA from bio terrorists. There is no other single location where the introduction of pathogens could be spread across millions of people within a few days.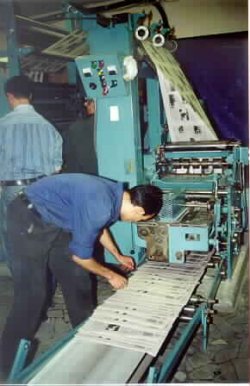 The real threat is at the printing presses for these tabloids. One person who sprinkles the spores on the end of the printing press for these tabloids could conceivably contaminate millions of people. The CDC in Atlanta says that these spores must be of a certain size to be delivered as airborne pathogens. Any person who fans through a tabloid causes dust or any particle to become airborne. This threat must be taken seriously by the Federal Government. It represents a greater threat than aerial or truck delivered attacks.
Fowler Associates has informed the FBI and White House of this threat but to date has received no response. If any of our readers has any clout with their representatives, please make them aware of this threat before we see not 6,000 deaths but many many more.
We propose that the printing companies who print mass publications become as secure as our airports. No less!