Happy Nuke Year 2002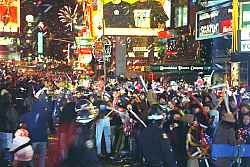 by Steve Waldrop
Philip Messing of the New York Post reports that cops patrolling Times Square on New Year's Eve will be armed with high-tech sensors to protect revelers against the possibility of nuclear terrorism.
A significant number of law enforcement officers on duty will be using "personal radiation detectors" on loan from the U.S. Customs Service, according to Mr. Messing.
The device, which is slightly larger than a pack of cigarettes, is capable of alerting the user to radioactivity nearby, providing greater protection for the expected one million New Year's Eve revelers who will watch the ball drop in Times Square.

A NYPD spokesman, Inspector Christopher Rising, who declined to say how many members of the force would be provided with the gadgets, which are triggered by extremely low levels of gamma rays and X-rays.

Mr. Messing states the black gadget, which weighs 6 ounces, measures 4.1 inches high, 2.4 inches wide and 0.9 inches thick, is carried in a Velcro belt holster. It is powered by two AA alkaline batteries and cost $1,400. If it detects radiation, the device vibrates, sounds a tone and displays flashing yellow lights.

Mr. Messing quotes Inspector Rising who said that "Our responsibility is to keep everyone safe. New York City post September 11, as well as the rest of the country, post new challenges, and the NYPD is continuing to do everything it can to keep New York City the safest large city in America."

He went on to explain that "Customs has been using them (the detector) for a while to test shipments. They're not designed to give a pinpoint reading- they're designed to tell you where you're safe to be."

The plan to use the device in Times Square is strictly "precautionary" and not based on a specific threat, said Rising.

The company that makes the tool, Sensor Technology Engineering Inc. of Santa Barbara, California, would not provide basic production information, insisting it was designed solely for "governments, countries, municipalities and security concerns."

A spokesman for the company who declined to give his name, said that, "If you're not one of those, you have no purpose purchasing it. It is a very, very sensitive device. If they come into anything that emits radiation, it will sound an alarm and tell someone they need to investigate further."
From A Canadian Web Site
Hand Held Radiation Monitor
The Hand Held Radiation Monitor (HRM) is a small, self contained gamma ray and thermal neutron radiation detector for use in the interdiction and location of nuclear materials. It was specifically designed to be easily used by trained security forces and emergency responders. The HRM is the size of a flashlight, and is intended to be hand held or worn on the operator's belt in a nylon holster provided with the unit. The HRM is available from Sensor Technology Engineering, Inc., Phone: (805) 964-9507, Fax (805) 964-2772, e-mail:Sb_sensor_tech@msn.com.

NYPD sources said that the device has been used before, although no details were available.
The device also has proved effective elsewhere in the war against terrorism.

Mr. Messing concluded his report by stating that; John A. Gordon, undersecretary of the U.S. Department of Energy, told the Senate Appropriations Committee on May 9 that a year earlier, Uzbekistan customs officers using a similar detector seized 10 containers of highly radioactive material that were suspected of being intended for use in a "radiation-dispersal bomb."

U.S. Customs spokesman James Michie had no details about that incident, but said his agency had "trained border guards from approximately 20 countries on how to look for radioactive materials that could possibly be used to construct weapons of mass destruction, and these countries include some of the former Soviet Republic."