Bush is Concerned bin Laden is Seeking bomb That Spews Radioactive Material
The Bush administration is concerned that Osama bin Laden's terrorist network may be actively seeking a crude explosive device designed to spew radioactive material, U.S. officials say.

The fear of al Qaeda acquiring a so-called dirty bomb adds to a growing list of worries the administration must face as it looks to thwart another possible attack against the U.S.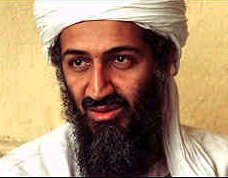 The administration has based its concerns of al Qaeda pursuing a radioactive bomb on intelligence picked up during recent days that mentions such a device, according to people familiar with intelligence on the matter. They cautioned that the information was still sketchy and unconfirmed. One person familiar with the matter said that while the intelligence has raised concerns within the administration, "it hasn't set off alarm bells."
One official said Attorney General John Ashcroft's warning Monday that the U.S. could face another terrorist attack this week wasn't based on fears of a radioactive bomb falling into the wrong hands.

Officials have had to deal with a flood of intelligence reporting from around the world since the September 11 attacks, including telephone intercepts and tips from human informants. Much of it, they say, is of dubious value. One official familiar with the intelligence on the dirty bomb said it could take days or weeks to figure out whether or not the information is credible.

A senior U.S. official, although unaware of any intelligence information about a dirty bomb, said the Federal Bureau of Investigation and other federal agencies have been preparing contingency plans in case such a bomb is detonated. "Those discussions have been ongoing," the official said, but not because of any hard threat information.

The U.S. long has worried about terrorist acquiring loose nuclear materials from Russia or other former Soviet States, as well as the scientific knowledge to turn the material into a weapon.

Officials said these concerns have increased as authorities in Pakistan during the past week have detained and questioned several nuclear scientists. A spokesman for Pakistani President Pervez Musharraf said at a news conference earlier this week "there are certain questions we need to ask", the scientist, Bashir Uddin mahmood, who ran one of the country's nuclear-power reactors until quitting in 1998 to work for a relief organization in Afghanistan. Several of his colleagues at the relief group, including at least one other scientist, also have been detained. The group operates inside Afghanistan with support from the ruling Taliban.

Mr. Mahmood wasn't involved in Pakistan's nuclear-weapons program, according to government spokesman Major General Rashid Qureshi. Another Pakistani official insisted the men were being questioned solely about their charitable work for the Taliban.

Foreign Minister Abdul Sattar reacted yesterday to press reports suggesting that political upheaval in Pakistan could jeopardize the safety of the country's nuclear arsenal. Pakistan's "strategic assets are under foolproof custodial controls," Mr. Sattar said in a statement.