Radioactive scrap metal materials have been found in products for many years. This article from the 1980's is still relevant today, as you can see, with the recent recall of the radioactive tissue box holders
Radioactive table legs found in shipment
Related Articles: Mexico to U.S. scrap metal story from 1983
Same batch of radioactive metal from Mexico enters California for 25 years
A shipment of contaminated restaurant table legs was radioactive enough to cause "serious consequences," officials said, and the manufacturer said it has recalled other shipments made from the suspect steel.
The Nuclear Regulatory Commission ordered an investigation into the table pedestals, made by Falcon Products Co. of St. Louis, after Illinois state police intercepted a shipment bound for a Chicago restaurant and a second tainted truckload was found in Tennessee.
The radiation was traced to radioactive scrap metal from a Mexican junkyard and has tainted tons of steel imported into the United States, some of it already discovered in New Mexico, Arizona, Texas and Colorado, the NRC said Wednesday.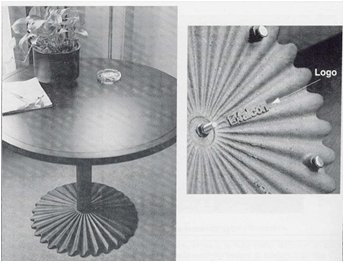 The Chicago bound truck was was stopped in Des Plaines, Illinois, on Tuesday for a random highway check for hazardous material when state police detected the radioactivity, said Don Etchison, director of the Illinois Nuclear Safety Dept.
"It's good the (troopers) discovered the shipment on the road, because it's highly unlikely the radioactivity would have been detected otherwise," Etchison said.
A person coming into close contact with the legs could have received in 12 1/2 hours the maximum permissible yearly dosage of radiation set by the federal government, state officials said.
Someone sitting a table with the contaminated legs for one hour would have absorbed radiation equivalent to one chest X-ray, said Russ Maribito of the NRC in Chicago.
"We don't believe it is a life threatening situation," said Marabito. However, he added, "any needless exposure to radiation is to be avoided."
The radiation level in the shipment discovered in Greenville, Tennessee, was not dangerous, only slightly above the level of background radiation normally in the environment, said Billy Freeman, a physicist with the Tennessee Division of Radiological Health.
Falcon officials said both shipments were being returned to St. Louis and then would be shipped back to Mexico.
Alen Peters, a top executive with the company, said Wednesday night that he believed all the table legs shipments had been recalled.
Company officials said no contaminated bases have gone on the market.