International Registry of Radiation Safety Officers
1999-2000 Gunderson Award
IRRSO - "Man of the Century"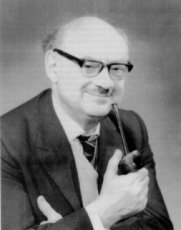 Dr. Arthur Charlesby (1915-1996) has been chosen as the recipient of the third annual Gunderson Award, by the International Registry of Radiation Safety Officers (IRRSO). This award is given annually for outstanding achievements in Radiation Safety and Radiation Processing Technology. The Gunderson Award was named in honor of the first recipient, Darrell Gunderson. Darrell received the first annual Gunderson Award in 1997.
Dr. Charlesby discovered electron beam crosslinking of polyethylene in 1940 while working at the Royal Accademy in London.
We honor and remember Dr. Charlesby for his contributions to the Radiation Processing Industry, and as the "Man of the Century" for our industry.