International Registry of Radiation Safety Officers
1997 Gunderson Award

Darrell Gunderson
The first Gunderson Award recipient was Darrell Gunderson. The award was named in honor of Mr. Gunderson prior to his death in 1997. Mr. Gunderson was an associate, teacher, mentor, and friend of all those who knew him.
A native of Nampa, Idaho, Darrell was a graduate of the Heald Institute of Engineering in San Francisco. After serving in the U.S. Air Force, he began his career in electron beam processing with the Cryovac Division of W.R. Grace & Co. in 1961. Darrell rose to the position of Senior Electrical Engineer with Cryovac. He was the teacher of many in the field of radiation. He was truly a pioneer of the industry.
In April 1997, Darrell was awarded the first lifetime achievement award by the Radiation Safety Officer Registry. The award will continue to be given periodically to a deserving RSO. This award is named "The Gunderson Award" and is affectionately called the "Gundy".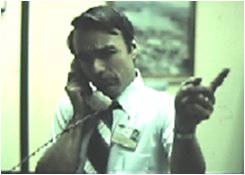 The RSO Registry which he co-founded lives as one of his many legacies.